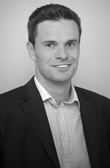 Hi. I'm Andrew Pritchard and this is my website, where I write about small businesses and the issues they encounter with their advertising and marketing. A few other topics may crop up now and again, but it's mainly about advertising and growing small businesses.
About Andrew Pritchard
I'm the principal of Inspire Consulting, a Michigan-based advertising agency, where I work with a bunch of incredibly smart people. I'm also really fortunate that my work brings me into contact with some really great businesses and the even greater people who run them.
My work is centered around the web and specifically trying to get small businesses to market online profitably, but I also do a little bit with print advertising and direct mail. Copywriting is my forté, but I'm also pretty handy when it comes to the technical malarkey like XHTML, CSS, and ASP.NET… thankfully now though I have employees who are way better at that stuff than I ever was.
Social Stuff
You can find me on a handful of social networking sites:
Of course, you can also contact me directly too.
If I Haven't Bored You Yet…
I've lived on three continents (born in Scotland, grew up in Australia, now living stateside) and I love to travel. I was educated at Scotch College, Melbourne and the University of Michigan, Ann Arbor.
Outside the office, I love hanging with friends and family. I also play a mean game of golf, am pretty handy on the squash court, slightly less handy on the tennis court, a little nuts on either a surfboard or a snowboard, and a rank amateur photographer. Great food is a passion, beer is rather tasty, and in wine there is truth… how much truth depends on the bottle.
Any time I can get to Melbourne, Edinburgh, London, Chicago, New York, or Vancouver I leap at the chance. But my main haunts are in the Birmingham/Royal Oak area, where I occasionally weird-out the natives by wearing my kilt out to the bar.
I try to read whenever possible. Publications of choice include The Economist, the BBC website, Crains, and the Harvard Business Review, although typically there are several issues of each scattered throughout my home and office waiting to be read.
Related Sites
Inspire Consulting is my business. I'm heavily involved in the Motor City Open each year, including handling much of the marketing and PR for the event. I dabble in a couple of other businesses and ventures and may post those later as they roll out.